Agile PrestaShop Paypal Adaptive Payment Module
Agile PrestaShop Paypal Adaptive Payment Module

4.9

4

Review(s)
AGILE-44
Warning: Last items in stock!
Availability date:
This module is an accessory module for Agile Multiple Seller environment, it works under any all Payment Collection module. It will automatically split customer payment into sellers and store's Paypal account.
PrestaShop 1.4x/1.5x/1.6x/1.7x

Note:this module requires the following two modules to work together:
- Agile Multiple Seller module
- Agile Seller Commissions module
This module can also be customized for any any purpose, including to use as a normal payment module.

Live Demo Request
You can request live demo access including back office admin access. Just input your email address and click "Demo Request" above this "More Info" section.

Features of module
Supports normal, simple payments - one sender one receiver scenario. For example, customer pays store, or customer pays seller directly.
Supports parallel payments - one sender and multiple receivers scenario. Customer pays for the order, and money goes to both the store owner (commissions) and sellers directly, automatically deducting commission charges.
Supports chained payments - customer pays store, and store pays to sellers in one single transaction. This way, you can keep payments between store owner and sellers confidential. Customer will not see payments between store owner and sellers.
Automatically integrates with the Agile PrestaShop Seller Commission module. It will automatically calculate payment amounts, taking into consideration seller commissions.
1st Customer to store
2nd Customer to sellers
3rd Customer to store and sellers
4th Store to sellers
What is the benefit of using this module?

By using this module, as the store owner you don't have to manually handle seller commissions. The commission payments are calculated, settled, and distributed at the time of checkout and payment completion.


PayPal Adaptive Payment scenario one - simple payment: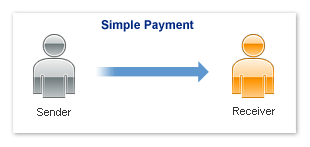 PayPal Adaptive Payment scenario two - parallel payments: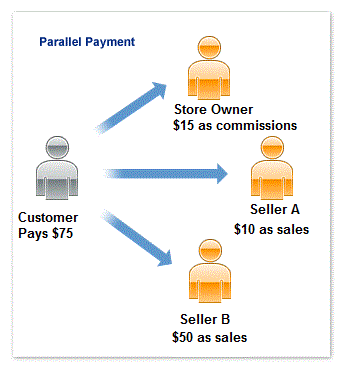 PayPal-Adaptive Payment scenario three - chained-payments: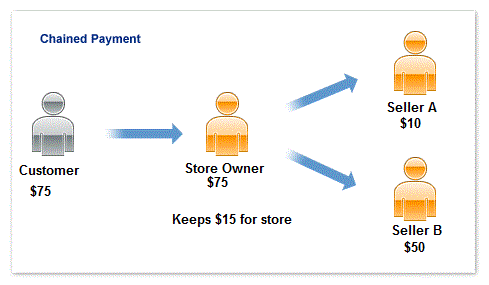 Some Notes:
Some Notes:
If you choose use chained payments, you will need to be approved through Paypal. For simple or parallel payments, you do not need approval from Paypal.
The store's PayPal email address must be different from any seller's PayPal email address.
Each seller must have a different PayPal email address.
All sellers' PayPal accounts must accept the currency set as default currency for this module. Usually this will be decided by store or market place owner.
Limitations
Please note: PayPal has a maximum limit of six (6) recipients for each transaction. This means that the buyer can only purchase items from a maximum of five (5) sellers in one shopping cart.
Generally, this is more than sufficient for most market places using a multiple seller/vendor store.
There is no live demo available for this product
Reviews(total:4) in your selected language.
---
PrestaShop 1.7x - Yes
PrestaShop 1.6x - Available*
PrestaShop 1.5x - Available*
PrestaShop 1.4x - Available*
PrestaShop 1.3x - No
*Avaliable - Please purchase current version of the module, then contact us with your order # and the version of your PrestaShop, we will send you the correct package of the module that works for your PrestaShop store.
Version 2.7.0.1 - 2017.01.02
Supports PrestaShop 1.7x
Adjustment to support Agile Kernel 1.7.1.0 with common Google API keys and Agile Modal window for alert messages


Version 2.5.0.1 - 2015.01.10
Supports PrestaShop 1.6x
Fix - CURLOPT_SSL_VERIFYHOST warning message
Notice: curl_setopt(): CURLOPT_SSL_VERIFYHOST with value 1 is deprecated and will be removed as of libcurl 7.28.1. It is recommended to use value 2 instead in .../modules/agilepaypalparallel/Lib/CallerService.php

Version 1.1.4 - 2013.04.07
- Compatible with PrestaShop 1.5.4 - changed to use PrestaShop 1.5x standard for module front pages
- fixed missing transaction ID in payment info

Version 1.1.3 - 2013.03.24
- Fixed redirect URL issue at multiple language environment.
- Fixed a bug at create new tab "Adaptive Payment Log" at back office.

Version 1.1.2 - 2012.12.01
- Integrated with new released Agile Multiple Shop module which allow each seller to have a virtual shop, virtual directory and seperated themes.
- Changed to Parallel Payment as default
- Fix a Warning about the number of parameters at OrderValidate() for PrestaShop 1.5x(not an issue)


Version 1.1.1 - 2010.10.24
- Fixed an issue at Parallel payment mode when store onwer has products to sell.
- Fixed an issue at seller commission is set to 0.


Version 1.1.0 - 2010.10.20
- Module adjusted to be compatible with PrestaShop 1.5x

Version 1.0 - 2010.02.26
- Implemented parallel/chained payment and compatible with PrestaShop 1.4x
- Integrated with Agile Multiple Seller/vendor module.