Agile Pickup Center Configuration
Note: 'To the order of' and address must be configured in order to use this module correctly.
We assume that you have installed the Agile Pickup Center Module in your system correctly. Now, it is time to configure this module in your back office.
Configuration can be done very easily by following the 2 steps below.
Step 1: Go to the configuration page:
1. Login to your store's back office.
(You must log in as Admin or as an "Employee" user with administrator's
permissions in order to configure the module.)
2. Click the "Modules" tab.
After you log in to your store's back office, you will see menus and tabs at the top of the page.
Please hover your cursor over the Modules main tab, then click the "Modules" option. This will bring you to the list of modules, or sections of modules.


Search for "agile" to display a list of all Agile modules, then choose the Agile Pickup Center module by clicking on it.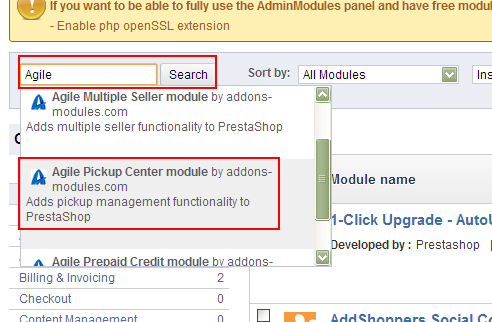 3. Click the "Configure" option on the module to go to the configuration page.
Under the module name, you will find the links "Delete", "Disable", "Configure", and also an "Uninstall" button on the right side. Clicking on "Configure" link will bring you to a set-up wizard (see screenshot below).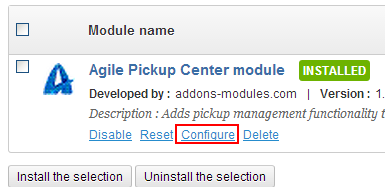 Now it is time to set up your options. The following are detailed instructions on how to set every option on the configuration page for the Agile PrestaShop Pickup Center module.
The linked carrier sets "agilepickupcenter" as the defaulted name.
Here are 4 maintenance notes for your reference.

Note: Do not delete this carrier.
Step 2: Configure the Agile Pickup Center Module.
1. Open a new page to edit the carrier.
Click on the words "click here" at the end of Maintenance Notes 1. You will be redirected to Shipping-->Carriers-->Edit. If desired, you may change the name of this carrier.


You should now see the following: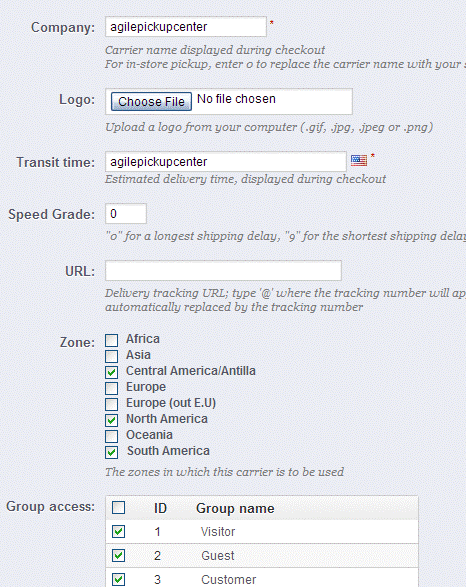 The following information will help you complete this section:
Company. The name is public, so use the official name. You could change the carrier name here.
Zone. Not all carriers can deliver worldwide. Indicate the geographical zones in which this carrier is available. If none zone is chosen, shipping fees for "agilepickupcenter" cannot be set. Select different zones for the "agilepickupcenter". For example, you could select Central America/Antilla, North America andSouth America.
Group Access. You might want only some user groups to be able to use a carrier. This option serves this purpose. For example, Visitor, Guest and Customer are selected.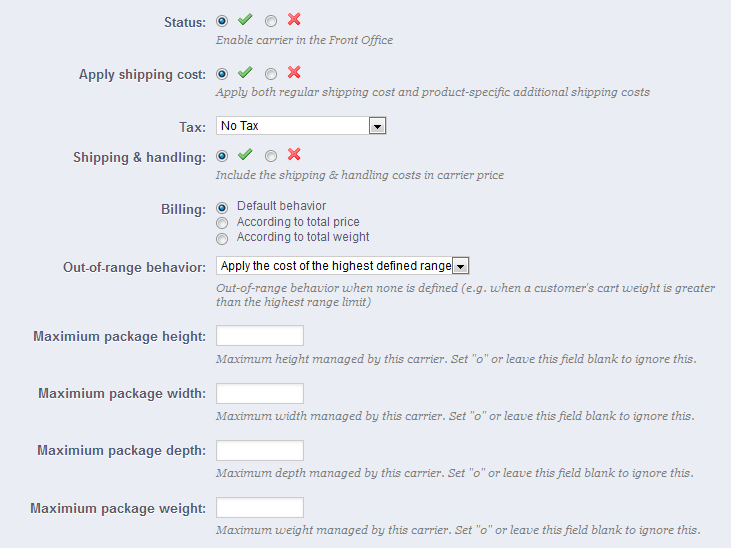 Status. Choose green mark to enable the carrier.
*** Save the page to finish the carrier edit.
2. Go to the Location page:
Go back to the configuration page. Then, click maintenance note 3 to access a new page. You will find more information here on "How to Create a New Location" to help you create a new location.