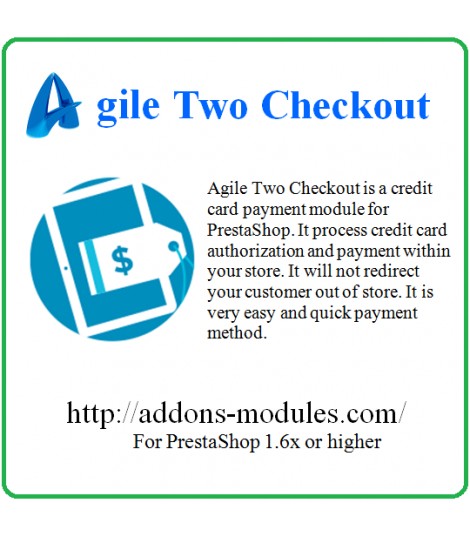 Agile TwoCheckout Credit Card payment module
AGILE-89
Warning: Last items in stock!
Availability date:
This is a PrestaShop credit card payment module via payment gateway twoCheckout. You can accepts credit card payment from all over the world (in 15 languages and 87 currencies, in 211 markets). It is a very easy/fast/convenience credit card payment module.
PrestaShop 1.6x/1.7x

Features
- customer authorize credit card payment within your store, very convenience
- Support 15 languages, 87 currencies in 211 markets at time of 2017.01.01
- Easy to configure and install
- Lower cost with low transactions (3.4% + $0.45)
Store admin benefit
- Easy to install and configure
Reviews(total:0) in your selected language.
---
There is no showcases available for this product at this moment. please come back and check it later.
PrestaShop 1.7x - Yes
PrestaShop 1.6x - Available*
PrestaShop 1.5x - No
PrestaShop 1.4x - No
PrestaShop 1.3x - No
*Avaliable - Please purchase current version of the module, then contact us with your order # and the version of your PrestaShop, we will send you the correct package of the module that works for your PrestaShop store.

Version 2.7.0.1 - 2017.01.02
Supports PrestaShop 1.7x
Adjustment to support Agile Kernel 1.7.1.0 with common Google API keys and Agile Modal window for alert messages

Version 1.0.0.1 - 2016.09.05
Support PrestaShop 1.6x