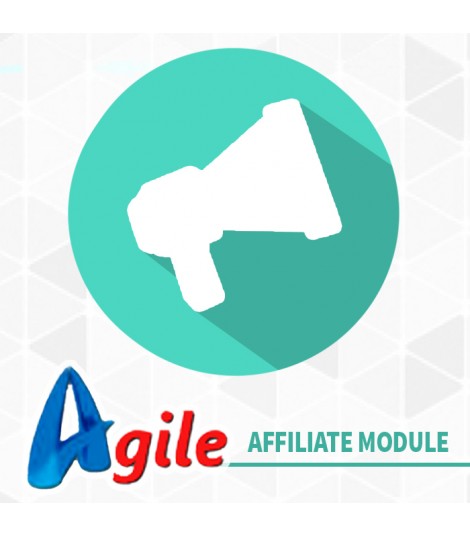 Agile PrestaShop Affiliate/Referral Module
AGILE-53
Warning: Last items in stock!
Availability date:
Get more customers with this module!
The module Agile Affiliate/Referral Program allows you to add a MULTIPLE level Affiliate/Referral Program to your shop. Affiliates can receive reward points from godchildren's purchases up to FIVE levels down. This is an accessory module of Agile Prepaid Credit/Token module(if it is used for PrestaShop 1.7x).

PrestaShop 1.4x/1.5x/1.6x/1.7x

Note:
For PrestaShop 1.7x it requires Agile Prepaid Credits module to work together.
For PrestaShop 1.6x or lower, you can choose to use PrestaShop default Customer Loyalty(free) module or choose Agile Prepaid Credit module to work together.

Functions:
Existing customers can participate in the affiliate program from "My Account -> Affiliate Program"; A customer can send an invitation email to other potential customers, and monitor the status of these individuals' acceptance of the invitations.
If an individual accepts the invitation, creates an account, and enters the referal code (Referral Customer A's email address), then the individual will receive a discount voucher and become Customer A's affiliate.
The voucher can be specified by the store owner.
The MLM level can be up to 5 levels deep. The shop owner can set the reward/commission rate for each level in the module's configuration. The reward/commission rate can be set to 0 for a level to not be used.
The commission is calculated as tokens/points. The dollar/token rate is from the Agile Prepaid Credit/Token module, or the Customer Loyalty and Reward module..
The shop owner can specify whether a notification email will be sent to the customer when points/tokens are awarded.


Back office functionalities:
This module creates a customer group named "newaffiliate". The shop owner can set up the discount voucher type/amount for this group and this voucher will be applied to all newly referred customers.
The shop owner can specify the affiliate commission/reward rate from level 1 to level 5.
The shop owner can specify in which order status the tokens are awarded.
The shop owner can specify whether or not to send a notification email to customers for each affiliate award.
The shop owner can make a CMS page for the affiliate program terms.
The shop owner can specify whether points are given on discount items or not.
The shop owner can view the customer's first level referred individuals list in the "Customers" tab, "Affiliate Program" section.
"Affiliate List" tab at back office for amidn with detailed affiliate sign up info and relastionshop informaiton.
"Affiliate Rewards" tab - affiliate reward history records


Front office functionalities:
An "Affiliate Program" link will be added in the "My Account" tab.
Customers can view the affiliate program terms in the affiliate program.
Customers can refer individuals by sending an invitation email or a shop link to individuals. If an individual clicks the link and registers an account, the individual can be referred automatically.
Customers can monitor the referred individuals' acceptance status.
The new Customer who creates a new account, and uses the referred link or enters the referrers's email address, will receive a discount voucher. The voucher will show in the Customer's first order.
Even if a new customer doesn't have an invitation email, they can still become an existing customer's affiliate as long as the referrer's email address is entered when registering the account.
Screenshots Images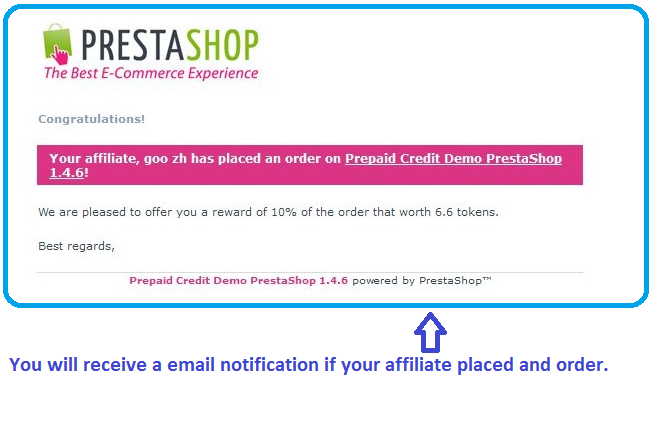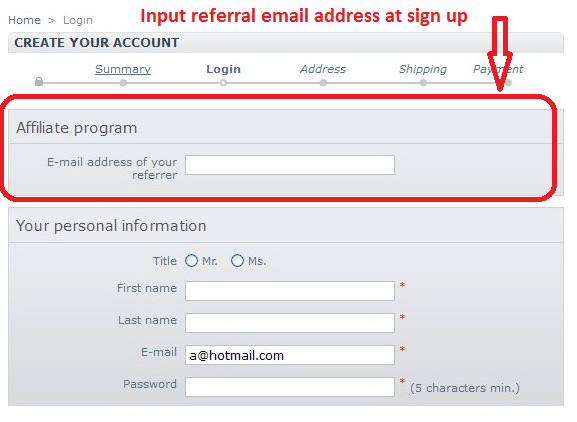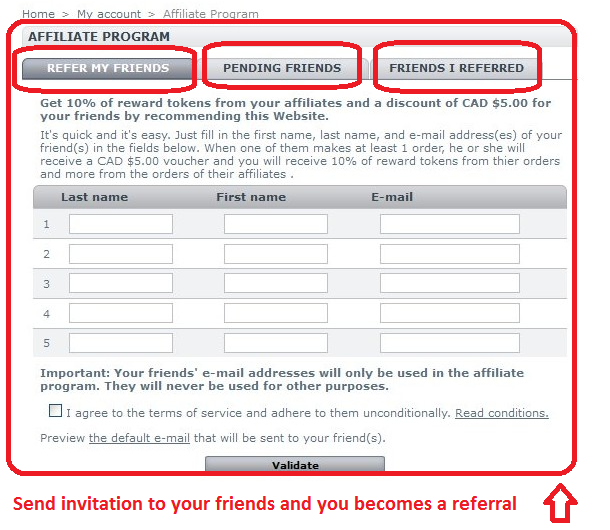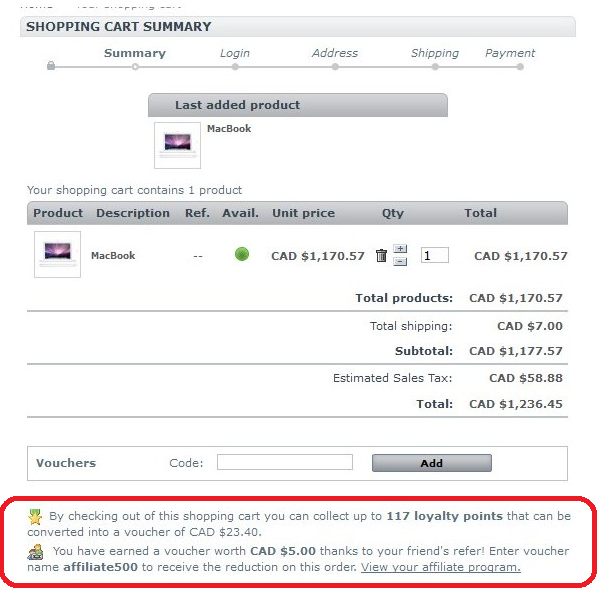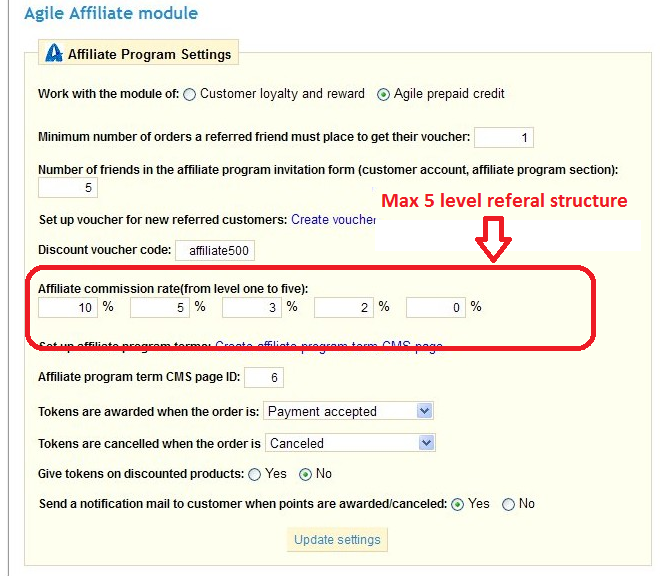 Reviews(total:0) in your selected language.
---
PrestaShop 1.7x - Yes
PrestaShop 1.6x - Available*
PrestaShop 1.5x - Available*
PrestaShop 1.4x - Available*
PrestaShop 1.3x - No
*Avaliable - Please purchase current version of the module, then contact us with your order # and the version of your PrestaShop, we will send you the correct package of the module that works for your PrestaShop store.
Version 2.7.0.1 - 2017.01.02
Supports PrestaShop 1.7x
Depends on Agile Prepaid Credit module
Adjustment to support Agile Kernel 1.7.1.0 with common Google API keys and Agiel Modal window for aler messages



Version 1.3.0.2 - 2015.01.27
- changed to use new hook name standard of PrestaShop 1.6x
- Fixed mail subject translation issue
- Fixed bug - promotion voucher(cart rule) was always using the voucher(cart rule) with ID = 1.


Version 1.2.2 - 2013.12.30
- fixed error "Commission rate is invalid" if you leave the commission rate empty at module configuration.
- Add following admin tab so that admin can find our the details of affiliate/referral and redards data
A. "Affiliate List" - new signed up affiliate list via affiliate program
B. "Affiliate Reward" - detailed affiliate reward recors (affiliate commissions)
- add order id to prepaid token module


Version 1.0 - 2012.08.23
First version released.
Please see here our general installation guide
A. New installation of agile module
Other Configuration Notes:
You will need create following contents for this module
- A CMS page as Terms & Conditions of affiliate agreement
- A cart rule (Voucher) for affiliate promotation
- A customer group for affiliate reward