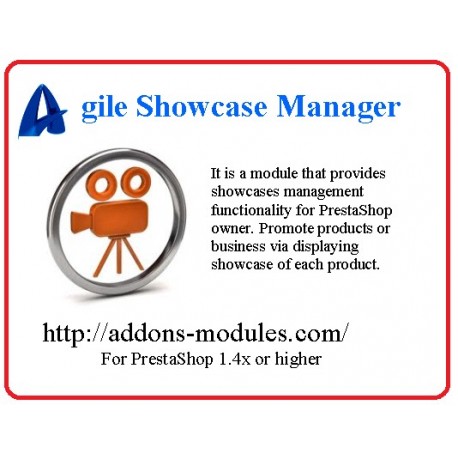 Agile PrestaShop Showcases Manager Module
AGILE-46
Warning: Last items in stock!
Availability date:
This module will provide showcase functionality for your PretsaShop online store. The store owner will be able to promote their online store and business by displaying showcases.
PrestaShop 1.4x/1.5x/1.6x
Main features
Customers can list or submit their business or website as a showcase at your online PrestaShop store, as long as they have purchased products or servicea from your PrestaShop store.
You have the option to display the "Latest Showcase" block in the left column or right column, based on your configuration of the Agile PrestaShop Showcase Manager module.
There is a showcase list which will list all showcases submitted, with brief information for each.
The showcase list can be easily filtered by products or services that are provided at your Prestashop store.
Each showcase requires admin approval before it will be appear in the store.
You can set a limit on the number of showcases to be submitted by a single customer in order to prevent spam or abuse.
There is also a capcha system to verify customer input, which will also help prevent spam posts of showcases.
Admin is able to modify the field data of each showcase in the back office admin tab.
The following information is included in the showcase:
1. Website name andbusiness
2. Website url
3. Website screen image
4. Country/region (displayed with a flag and name)
5. Description of site/business
6. Products or services used (multiple selection)
7. Comments/reviews about the products used
A new link will be automatically displayed on the product page if there are any showcases available for the product, and the link will bring the customer to the showcase list for the product.
Allowing customers to showcase their sites at your store can generate more visitor interest in your store, and help promote a higher level of customer loyalty.
Reviews(total:0) in your selected language.
---
There is no showcases available for this product at this moment. please come back and check it later.