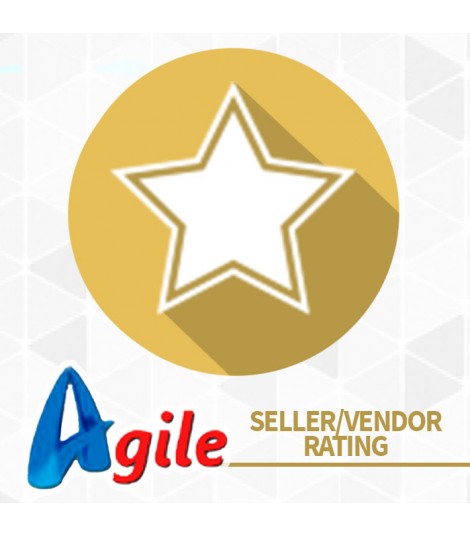 Agile PrestaShop Seller/Vendor Rating Module
Agile PrestaShop Seller/Vendor Rating Module

4.9

4

Review(s)
AGILE-35
Warning: Last items in stock!
Availability date:
This is a Seller rating and comment module. It is an accessory for the Agile Multiple Seller module. Customers can offer feedback about a seller by leaving comments and ratings for the seller they buy products from.
PrestaShop 1.4x/1.5x/1.6x/1.7x

Note: this module is an accessory module of Agile Multiple Seller module.
Features
Only customers who have purchased products can add ratings and comments for sellers.
Only one rating/comment will be allowed per order (transaction).
There will a feedback waiting list for each buyer, which will list all orders/transactions awaiting feedback.
On the front office product detail page, there will be a Seller Rating Summary.
There will be a summary of average ratings and comment history for each seller.
There are 3 predefined criteria for ratings - Shipping, Service, Communication.
You can add/modify/delete any number of criteria.
Seller is able to respond buyer's comment. one response for one comment.
Reviews(total:4) in your selected language.
---
Please see here our general installation guide
A. New installation of agile module
Other Configuration Note:
You may change(add/remove) the review criterion based on your own business requirement.
PrestaShop 1.7x - Yes
PrestaShop 1.6x - Available*
PrestaShop 1.5x - Available*
PrestaShop 1.4x - Available*
PrestaShop 1.3x - No
*Avaliable - Please purchase current version of the module, then contact us with your order # and the version of your PrestaShop, we will send you the correct package of the module that works for your PrestaShop store.
Version 2.7.0.2 - 2015.12.11
Compatible with PrestaShop 1.7x


Version 2.1.0.1 - 2015.06.07
-- Changed to use real hook name instead of alias
-- New feature: Admin is able to edit ratings at back office - Customers - Seller Ratings tab
Version 2.0.0.2 - 2014.06.22
- Compatible with Smart Cache for Javascript and Smart Cache for CSS
Version 2.0.0.1 - 2014.04.19
- Compatible with PrestaShop 1.6x
- Support responsive theme design
- Fixed the link Seller Name to Seller Shop home page at seller average rating
- New feature - show seller rating on seller's private category
- Show Seller Rating on product list page
Version 1.2.5 - 2013.04.07
- Compatible with PrestaShop 1.5.4
- Fixed an issue - Seller Name(company) is not displayed on ranting summary page
Version 1.2.4 - 2013.03.24
- Add link from Seller Rating summary on product page to Virtual Shop (PrestaShop 1.5x) or Seller products page(PrestaShop 1.4)
- Do not allow seller to feedback ranting for him/hersef. The transactions will be excluded from rating feedback list even seller places order from his/her own store.
- Changed to use Seller Company instead of "Firstname/lastname" for seller name
- Fixed: Seller response to customer back was missing from rating list
Version1.2.3 - 2013.01.22
- Seller is able to respond to buyer's comment/rating, the response will also be displayed on seller's rating list.
Version1.2.1 - 2012.12.01
- Integrated with new released Agile Multiple Shop module which allow each seller to have a virtual shop, virtual directory and separated themes.

Version1.2.0 - 2012.10.20
- Module is adjusted to be compatible with PrestaShop 1.5x

Version 1.1.0 - 2012.06.30
- Seller is able to respond a message to a buyer's rating/review