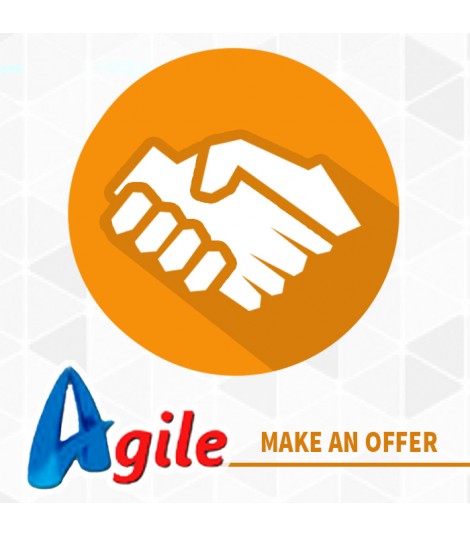 Agile make an offer for PrestaShop
AGILE-75
Warning: Last items in stock!
Availability date:
This is a module that buyers can send a price offer to seller privately via email. It will display a "Make an offer" button at product page and when user click this button, a form will open up for buyer to fill and send the form to seller.
PrestaShop 1.5x/1.6x/1.7x
This version is for PrestaShop 1.7x, if you are looking for the module for lower version of PrestaShop 1.6x/1.5x/1.4x, please contact us at [email protected]
This is an accessory module of Agile Multiple Seller/vendor module. It allow buyers to send a message by email to seller to make a price offer.
Features
If user is logged in, then automatically the user's email address and name will be used. Otherwise, user need to manually enter name and email address.
The email mail will be send to the seller (owner of the product).
The product and customer information will be included in the email, but you are able to chnage the email template to modify the contents of the email.
Reviews(total:0) in your selected language.
---
PrestaShop 1.7x - Yes
PrestaShop 1.6x - Available*
PrestaShop 1.5x - Available*
PrestaShop 1.4x - No
PrestaShop 1.3x - No
*Avaliable - Please purchase current version of the module, then contact us with your order # and the version of your PrestaShop, we will send you the correct package of the module that works for your PrestaShop store.

Version 2.7.0.1 - 2017.01.02
Support PrestaShop 1.7x
Changed to use modal window to send price offer
Changed to use modal window to show alert messages to make more user friendly.
Changed to use PrestaShop 1.7x email template style


Version 2.5.0.1 - 2016.07.18
Support PrestaShop 1.6x


Version 1.0.0 - 2013.10.21
Support PrestaShop 1.5x