Agile PrestaShop Price Comparison for Multiple Seller
AGILE-71
Warning: Last items in stock!
Availability date:
This module will display a comparison list of the same products selling in the store showing price, seller name, view detail, and buy button on the product details page at front store. This is an accessory for the Agile Multiple Seller module. It will serve to help customers choose and purchase products from different sellers with varying prices.
PrestaShop 5x/1.6x/1.7x

Note: This is an accessory module and requires the Agile Multiple Seller module to be installed.
Features
- You can choose between using UPC, EAN13, or Reference product fields to identify whether the products are the same or not.
- You can choose to use the default hook location, or you can configure the display area inside the product page.
- You can set the number of products to show on the comparison list displayed to the buyer.
- If the Agile Seller Rating module is installed, Seller ratings with also be displayed beside/under the seller name with a link to seller rating details views.
- If the Agile Multiple Shop module is installed, then seller name will also be linked to seller shop home page.
Note:
This initial version does not currently support product attribute combinations, however this feature will be incorporated in the next release.
Screenshot image: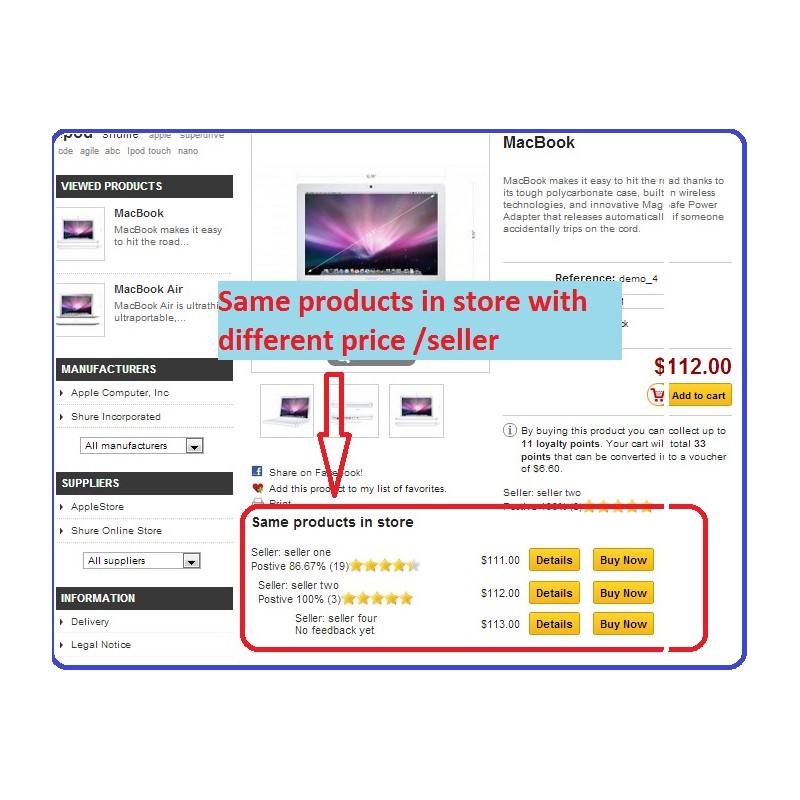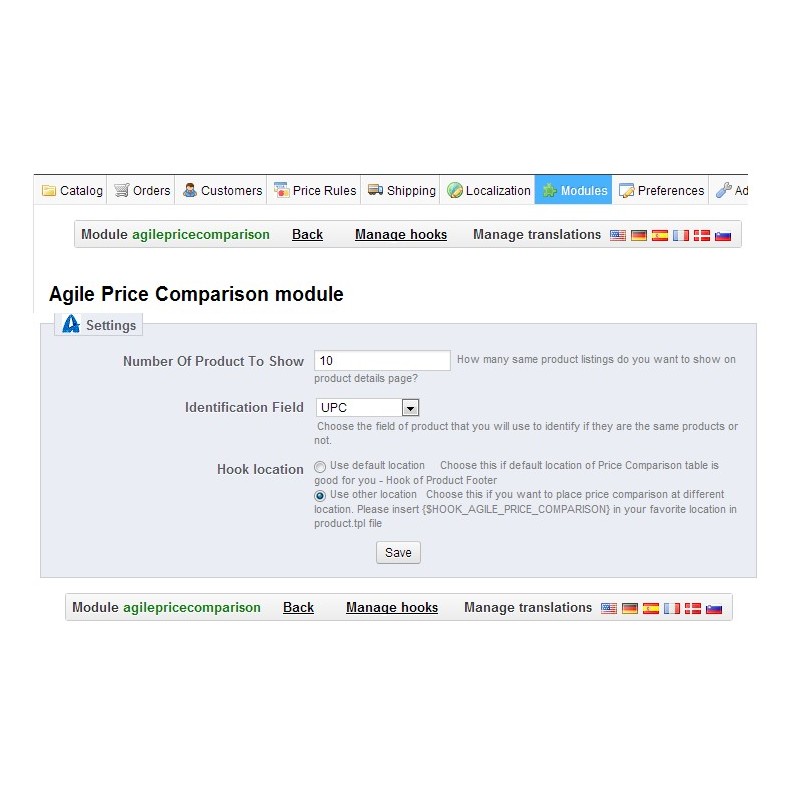 Reviews(total:0) in your selected language.
---
PrestaShop 1.7x - Yes
PrestaShop 1.6x - Available*
PrestaShop 1.5x - Available*
PrestaShop 1.4x - No
PrestaShop 1.3x - No
*Avaliable - Please purchase current version of the module, then contact us with your order # and the version of your PrestaShop, we will send you the correct package of the module that works for your PrestaShop store.

Version 2.7.0.1 - 2017.01.02
Supports PrestaShop 1.7x
Adjustment to support Agile Kernel 1.7.1.0 with common Google API keys and Agile Modal window for alert messages

Version 2.5.0.1 - 2014.06.22
Supports PrestaShop 1.6x
Partially integrate with agile shipping estimation module, it will display product shipping fee when compare the prices.

Version 1.1.0 - 2014.04.19
- Compatible with PrestaShop 1.6x
- Support responsive theme
- fixed display limit number of same products issue

Version 1.0.1 - 2013.06.08
- fixed price tax displaying issue, it did not match price tax include/exclude dispaly option.


Version 1.0.0 - 2013.04.01
- released basic functions