Agile PrestaShop Membership Module
| | |
| --- | --- |
| | Agile PrestaShop Membership Module |
AGILE-18
Warning: Last items in stock!
Availability date:
Agile Membership is a PrestaShop management module which will help store owners manage their
membership based online store effectively, and allow them to focus on their business. With Agile Membership, you will have control of membership fees,membership expiration, and member only access content of your store.
For PrestaShop 1.7x (for lower version, please contact us)

Please mote: This version is for PrestaShop 1.7x, if you are looking for the module for PrestaShop 1.6x/1.5x/1.4x, please contact at support@addons-modules.com
This version of the module support responsive theme
Features
Membership Fee settings for multiple types of membership.
Membership Discount settings for multiple membership types.
Membership Expiration setting for multiple membership types.
Member only access control for content based on permission setting.
Member access control can be configured by page (including CMS pages), by category, by product level.
Option to set show/hide membership information block on left/right columns.
At back office, a new tab for Membership is added where you can confirm membership details.
You can export membership information into an Excel file, with filtering and sorting.
Membership history - Members can see their membership history.
Access Permission Denied page will be displayed if user tries to access member only contents but does not have sufficient privileges.
My Membership is added to My Account. User is able to confirm membership at any time.
Once membership is expired, module will automatically detect and revoke all privileges.
User can choose membership at sign up.
User can purchase new membership, or a renewal before membership expiration, and the membership time frame and expiration date will be automatically calculated.
User can use Voucher (issued by PrestaShop store) to purchase membership.
After sign up or log in, module will add user selected membership to shopping cart and redirect user to order page if user has not yet purchased membership.
Automatically send membership expiration notice email a specified number of days before expiration.
You can configure multiple emails to be sent a given number of days before expiration. For example, you can specify that 3 separate emails will be sent 7 days, 3 days, and 1 day before expiration.
Supports free membership.
Price = $0.00 for free membership.
Free membership can only be used once per user. A "Do not qualify" message will be displayed at shopping cart if user tries to order the same free membership for the second time.
If the user orders the same free membership again, it will not be added as valid membership.
Assign free trial membership to customer
The free trial membership does not have to be free ($0) amount, you can use any membership as free trial.
The timing of membership assignment is configurable as following
A. Do not assign (will assign manually)
B. When customer account is created
C. When seller account is created (agile multiple seller module)
D. When seller account is approved (agile multiple seller module)

Integration with Agile Multiple Seller/Vendor module.
A. Do not show membership signup at customer/seller signup page
B. Hide "My Membership" links at my account page and "My account" block
C. Show membership information and membership history inside "My Seller account" page
D. Limit the number of products to list for sale based on the membership type of the seller
E. When seller membership type expores, the listed product will be disabled automatically.
F. Automatically assign seller a free trial membership based on configuration.
Membership cancellation
- Membership cancellation refund voucher features
A. Admin is able to configure to issue refund membership cancellation voucher or not
B. Customer can also cancel membership at My Membership - Membership History
C. Refund voucher could be issued based
D. Refund voucher expiration is also configurable by admin
E. Admim is able to configure to allow customer cancel membership or not.
F. Admin it able to configure to allow customer send membership cancellation request if not allow customer to cancel membership.
- Changed code of back office admin tabs to use PrestqShop 1.5x standard, removed the compatibility with PrestaShop 1.4x
A. Memberships tab
Integration with Agile Paypal Express Checkout module
The module is integrated with Agile Paypal Express Checkout module to make membership subscription more easier.
- Show "Subscribe" button on Membership product page so that user can click "Subscribe" button to subscribe membership instantly.
- Admin is able to configure the option to allow customer to choose repeating times or use default to "Until Cancel"
- Admin it able configure Agile Paypal Express Checkout module to prevent mix of membership products and other normal product in one shopping cart.
Read our PDF version fo Tutotail document here
Agile Membership Screen Images
PrestaShop Membership module - User sign up, choose membership type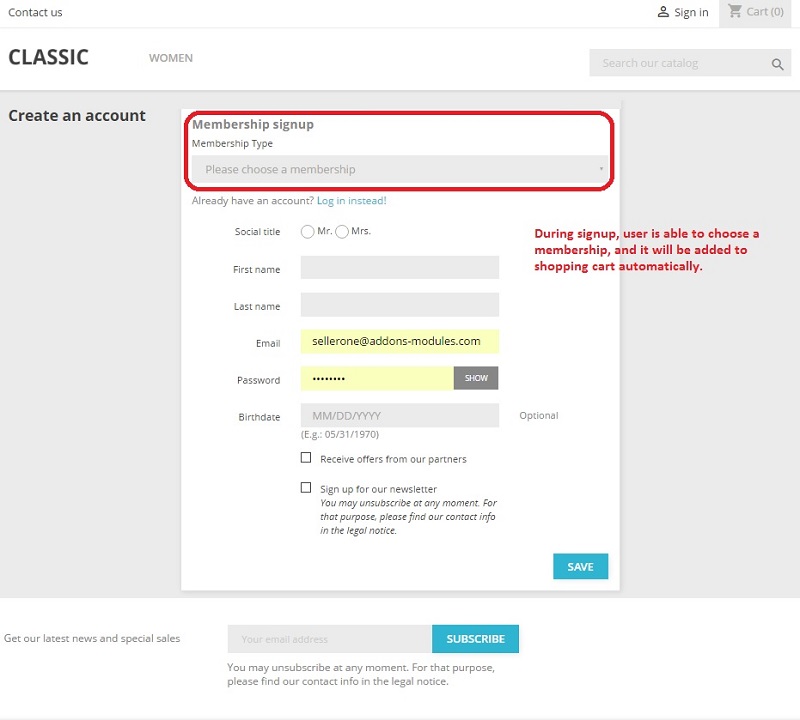 PrestaShop Membership module - Automatically redirect to membership purchase
PrestaShop Membership module - My Account info displays membership information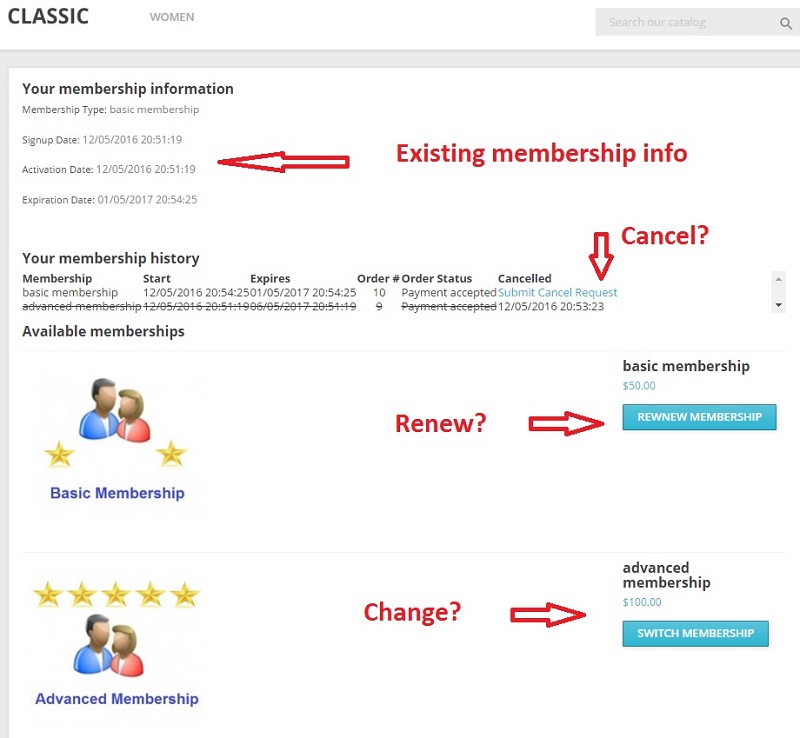 PrestaShop Membership module - Access Permision control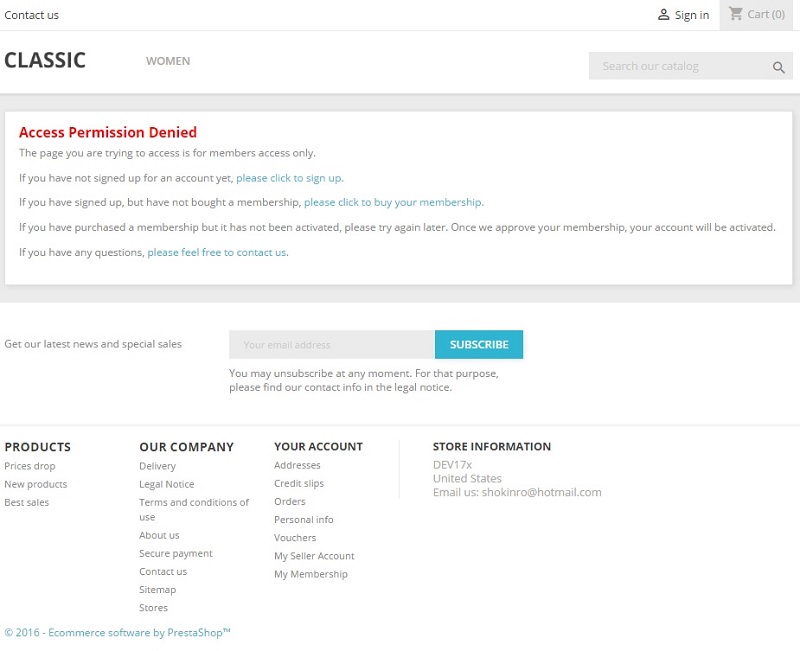 PrestaShop Membership module - Membership Management, export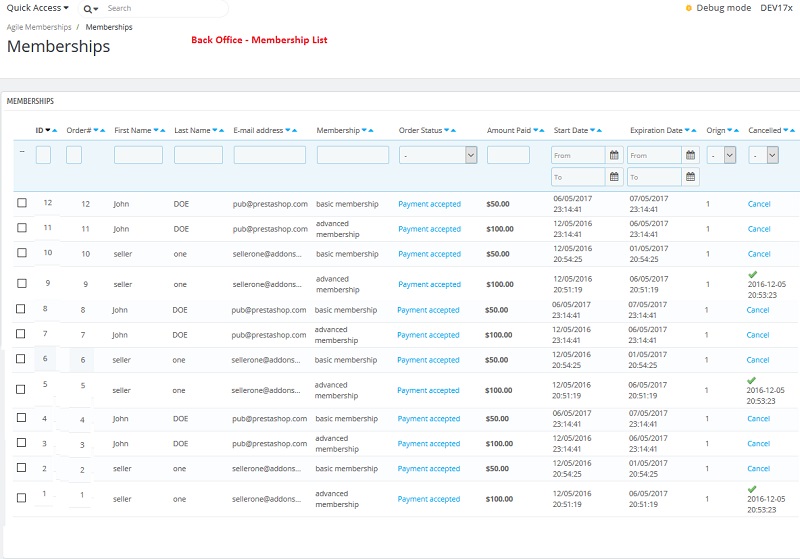 Free membership is membership with price = 0, Free membership is limited to one time per user. If user tries to order same free membership, the following message will be displayed on the shopping cart:
We strongly recommend you use our live demo sites to verify the features and functions of our module before purchase.
There are 3 demo site available. Select one that meets your business rquirements.
PrestaShop 1.7x:Demo702: Membership + with Agile Paypal Subscribe Payment
PrestaShop 1.6x:Demo601: Membership + with Agile Paypal Subscribe Payment
PrestaShop 1.5x:Demo501: Membership + with Agile Paypal Subscribe Payment

Your email:
If you would like back office admin access of the demo site, please fill in your email address and click [Demo Request] button below..


Reviews(total:22) in your selected language.
---
PrestaShop 1.7x - Yes
PrestaShop 1.6x - Available*
PrestaShop 1.5x - Available*
PrestaShop 1.4x - Available*
PrestaShop 1.3x - No
*Avaliable - Please purchase current version of the module, then contact us with your order # and the version of your PrestaShop, we will send you the correct package of the module that works for your PrestaShop store.